HELLOOOOOOO!!
fjghkgshgkahfslghslhlhsghskgsgh
For those who've read the book, you understand.
ACOMAF is incredible, and blows ACOTAR completely out of the water. I'm so impressed!
Also, please note that I use the acronym SJM instead of typing out Sarah J Maas over and over and again. ACOTAR means A Court of Thorns and Roses and ACOMAF means A Court of Mist and Fury.
Okay, now that we've got that cleared up, please also note this post is packed with spoilers. I strongly recommend if you haven't read this book and are interested in reading it that you leave right now. The goodreads link for ACOMAF is here.
Let's get started! (Yes, I must honor my totally healthy obsession with Jennifer Lawrence by placing a Jennifer Lawrence gif here. Deal with it!)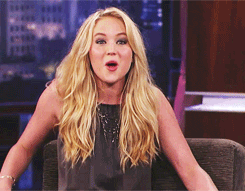 My Rating: 5/5
GUYS I legit have 6 pages of notes for this book!
I'm so glad I read the paperback of this book instead of reading an ebook like I usually do! It's so stunning and really blue.
I have no idea where to start.................
My first note was about Feyre vomiting in the beginning. I thought she might be pregnant or something. At that point I was still Team Tamlin as it was in the beginning and I still loved him. I really liked Tamlin and Rhysand I had mixed feelings about. In the previous book, he'd done a lot of relatively evil stuff, that we all hate him for because we don't understand him at all as a character. In this book, I mean wow. Funny how SJM can make us hate a character for one second and make us love him the next.
In the beginning of this book, Rhysand annoyed me. Again, I was still Team Tamlin and I felt as if he just stepped in everywhere and prevented Tamlin and Feyre from reaching any kind of agreement. Tamlin wasn't perfect, but I felt like he was trying.
Tamlin got blind in this book though. He went to ridiculous lengths to keep Feyre with him, and it was just so weird. The whole locking her in thing frustrated me to no end. How dare he treat her like an animal? He actually treated her like his pet! He locked her in, didn't let her do anything without his permission, until he came home so he could have sex with her. Absolutely irritating.
In the beginning of the book, I was also a bit tired of Feyre and Tamlin, and I felt a bit discouraged because I thought this book would be more of a slow burn, which I don't usually enjoy. However, one she started spending time with Rhysand, I was intrigued and enjoying it to no end.
"We shot into the sky, fast as a shooting star."
Also, I LOVED the casual flirtation between Rhys and Feyre, it was so sweet and entertaining. As a couple, they are perfect.
Okay, let's talk more about Rhys and Feyre as a couple.
WHICH REMINDS ME............
Fair warning: there are no teams!!!! TAMLIN IS GONE OUT OF THE WAY. IF YOU DON'T SHIP FEYSAND, THEN I DON'T KNOW WHICH PART OF YOU TO CUT OFF FIRST!!!!
No just kidding, there will be no cutting off of parts!
I LOVE them. I've already started imagining their babies. *sighs* So adorable. Chapter 54 and 55 of this book were spectacular. Chapter 55 is literally a whole chapter full of sex. I loved it. Also I loved the whole offering him food thing. It was really weird though. I think even Feyre was like what is this weird stereotypical tradition and everyone thinks it's ridiculous. But it's funny because it's basically making fun of the world they live in.
I'm so speechless at the wonder that is this book. I'm really glad the main love aspect got settled in this book - by him being her mate and all - because I want war and bloody war in the next book. I'm so excited.
SJM has enchanted me once again.
Also, isn't it so cool that SJM technically writes YA and gets to get away with swearing and steamy sex? Not that I'm complaining (at all) of course.
I loved the fact that Feyre got stronger and more capable in this book. I don't think that she was completely helpless in ACOTAR, but you definitely see much more girl power in this book. She's definitely come into her own as a character.
I love the fact that Rhys and Cassian and Aziel are all feminists. I love to see that in my books.
I ship Lucien and Elain, I want Cassian and Nesta together, as well as Mor and Aziel. I want to also say that the supporting characters in this book are fantastic.
Tamlin is so freaking stupid. So irritated at the character I once loved. I hope Feyre doesn't have sex with him or anything like that in the next book. That would suck.
Overall, this was a stunning read!!! Recommend this endlessly. I'm so glad god brought Sarah J Maas into my life.
The next of her releases is Empire of Storms coming out on Sep 6. If you haven't read the Throne of Glass books, it'd be a great idea to start those now. You can check out my review of Queen of Shadows, Heir of Fire, Crown of Midnight, and Throne of Glass. As well as Srishti and I's review of ACOTAR.
I have started reading The Way to Game the Walk of Shame and although it's really cheesy I find myself enjoying it. I will not be writing a review for that book here
. Then.........diving into
The Last Star
by Rick Yancey which I also have a physical copy of! So excited!
Love,
Yomna